Fight Systematic Injustice in CA: Change the 50-Mile Regulation

Children of migrant farmworkers have a lot stacked against them: poverty, pesticide exposure,
and social isolation. However, there is one fundamental hardship that almost guarantees they will
not succeed educationally: the 50-mile regulation. The 50-mile regulation is an anachronistic
Office of Migratory Services (OMS) regulation 2 that requires migrant farmworkers to move 50
miles or more during the off-season in order to qualify for housing the next season. As a result,
this is what the school year looks like for an estimated 3,500 children in migrant housing:
August-November: Attend School #1
December-April: Attend School #2, at least 50-miles away
May-June: Return to School #1

Good Housing And A Bad Regulation

The OMS operates 24 Migratory Housing Centers that provide clean, safe, affordable housing to
10,000 farmworkers. Why is affordable housing for migrant workers necessary? Farmworkers,
whose agricultural labor has long been exempted from protections such as minimum wage and
disability pay, earn an average of $17,500/year.

The origin and rationale of the 50-mile regulation is unknown and California is the only state
with such a regulation. Advocacy groups, including the Center for Farmworker Families, have
been negotiating with state regulators for years, including filing a formal petition to exempt
school-age children from the regulation.

Speak Up for Farmworker Families

Please call, fax, write, send postcards, email, tweet, and use the form below to send a message to Ben Metcalf.
Please spread the word!
Download the postcards, to print here: Front and Back

Governor Jerry Brown
c/o State Capitol, Suite 1173
Sacramento, CA 95814
Phone: (916) 445-2841
Fax: (916) 558-3160
Email Form:
https://govapps.gov.ca.gov/gov39mail/
Twitter: @JerryBrownGov

Ben Metcalf, Director
CA Department of Housing & Community
Development
2020 West El Camino Avenue
Sacramento, CA 95833
Phone: (916) 263-7400
Email: ben.metcalf@hcd.ca.gov
Twitter: @BenMetcalf_HCD
Send a message to Ben Metcalf, Director of CA Department of Housing & Community and tell him to protect the children of farmworkers and change the 50-mile regulation. Download the postcard below today.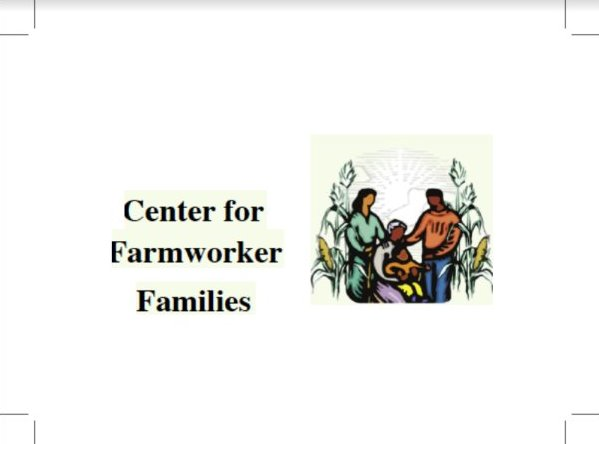 Download the front side of the postcard
Download the back side of the postcard